Finally, someone has made the gay "Big Chill," without the politics, or maybe the gay "Four Weddings and a Funeral," but with only one wedding (and it's a straight one). Or maybe what Brian Sloan, the writer and director of "I Think I Do," says he set out to make: a gay 1930s-style screwball comedy.

Whatever "I Think I Do" is the gay version of, it's hysterically funny, very smart and eventually as heartwarming as, oh, a Jack Nicholson movie in which he's softened up by a dog.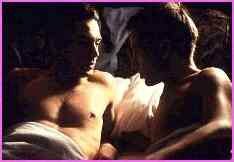 Six George Washington University housemates are brought together a few years after graduation for a wedding. Bob (Alexis Arquette, brother of Rosanna and Patricia) is arriving with a sort of trophy lover, the soap opera hunk Sterling Scott (Tuc Watkins), who wears a sleep mask to bed, thinks they should get married and likes "the idea of a theme reception."
Bob hasn't seen Brendan (Christian Maelen), an apparently straight guy he had a mad, unrequited crush on, since college. What he doesn't know is that since then Brendan has come out and is really looking forward to seeing him. Sarah (Marianne Hagan) doesn't know that Brendan is gay either, so she's confidently flirting with him and expecting a sleepover.
Meanwhile the bride, Carol (Lauren Velez, who was great in Darnell Martin's film "I Like It Like That" and is spectacular here), can barely be bothered with the whole wedding rigamarole. Carol has such an untraditional attitude toward her wedding that she invites everybody back to the bridal suite for an after-party. That's when Bob gets locked out of his room, and Bob and Brendan end up sleeping together, in both senses of the word, on the suite's sofa bed. Pretty soon, everyone knows about this, and it's hard to say who Bob, or anyone else, will end up with.
The wedding itself is a joy. When one guest, who is scheduled to read from the Bible, announces that instead he'll read a passage from "The Awakening," one of the bride's favorite novels, the gang exchange half-naughty, half-nostalgic smiles from pew to pew. You half expect JoBeth Williams to pop up in the choir loft, playing "Satisfaction" on the church organ. These 20-something single people live in a world in which heterosexual women don't faint when they learn a man they're attracted to is gay; they're just disappointed, for their own selfish reasons. (A couple of people do faint in the film, however, in a style that might make Carole Lombard proud.) The characters are uniformly funny and sympathetic, and you want all of them to find the right person and be happy.
"I Think I Do" does require a taste for pointed, topical humor and a particular brand of clever conversation. Bob's comment, for instance, when a woman expresses interest in an almost-naked male at what appears to be a lap-dancing club, is "All it takes is a dollar and a dream." Later, Bob tries to explain his doubts about his current romantic relationship by saying, "Sometimes, with Sterling, I think I want to go for the brand new car." If those lines strike you as self-consciously cute (or if they just puzzle you), move on.
Sloan made "Pool Days," a short film that was shown as part of the anthology "Boys Life" in 1994. This is his feature-film directing debut and an impressive one. More, please.
Copyright 1998 The New York Times Company